Performance as an accelerator of style
RICHARD MILLE FOR FERRARI
A ground-breaking watch embodies all that is necessary to withstand life's pressures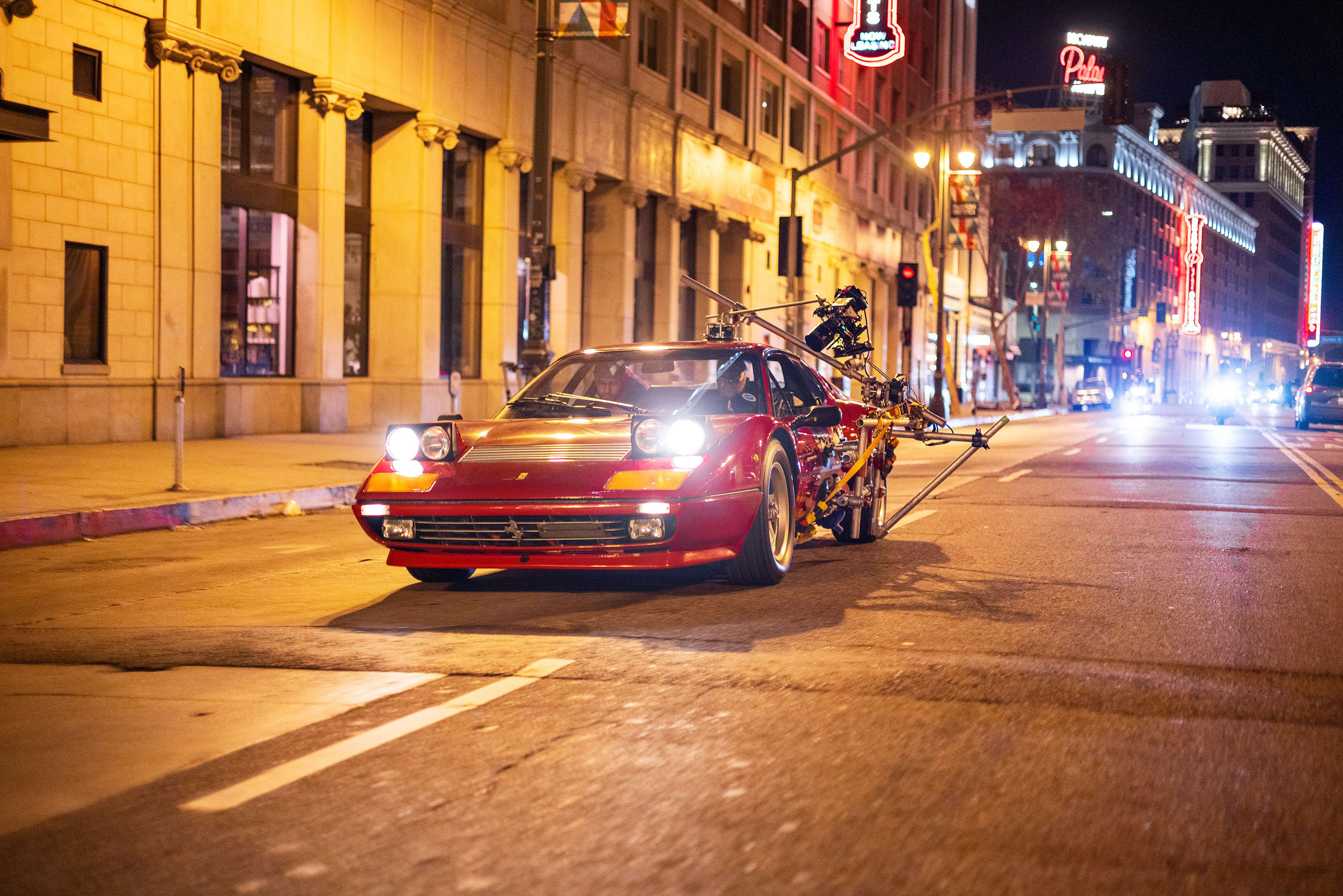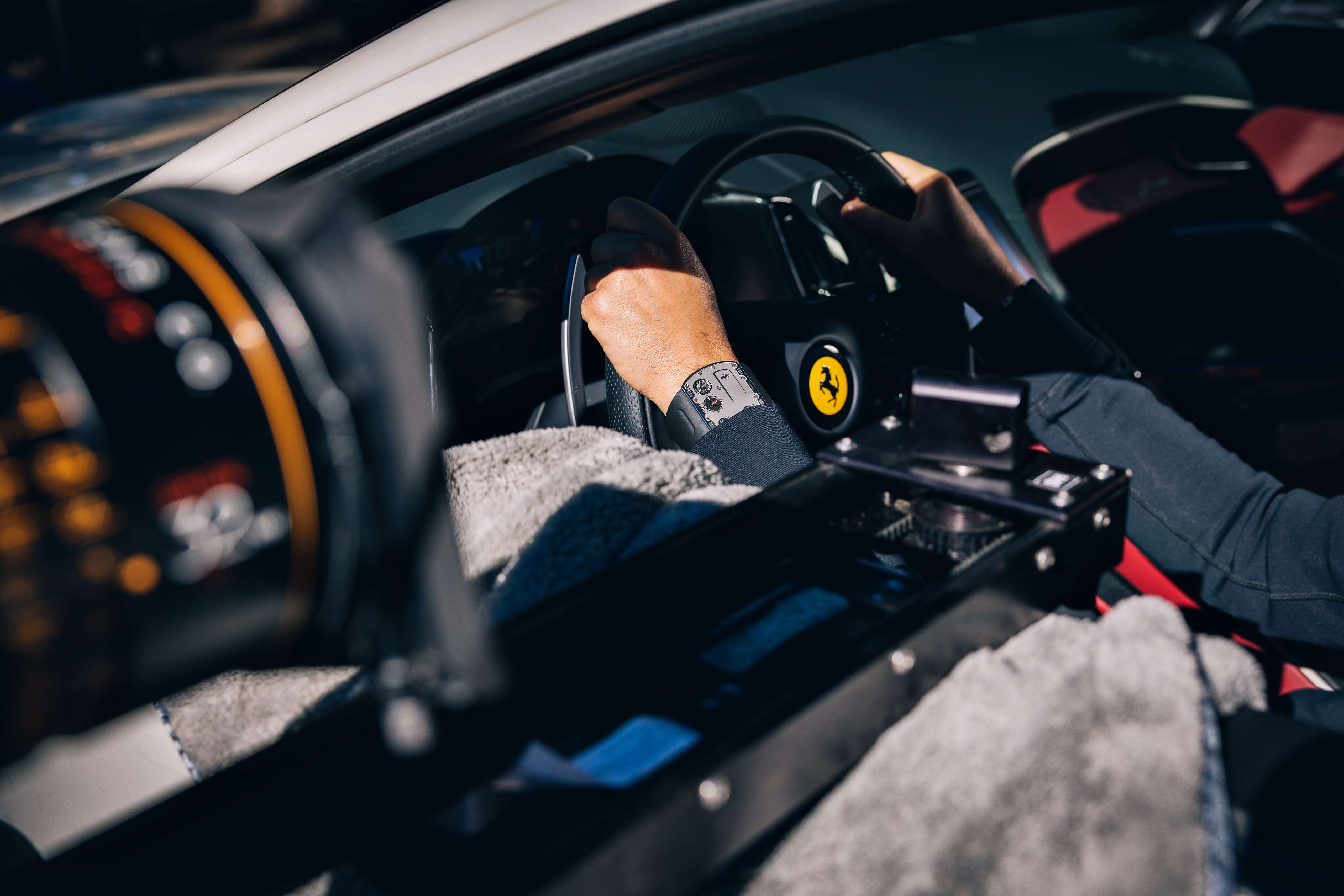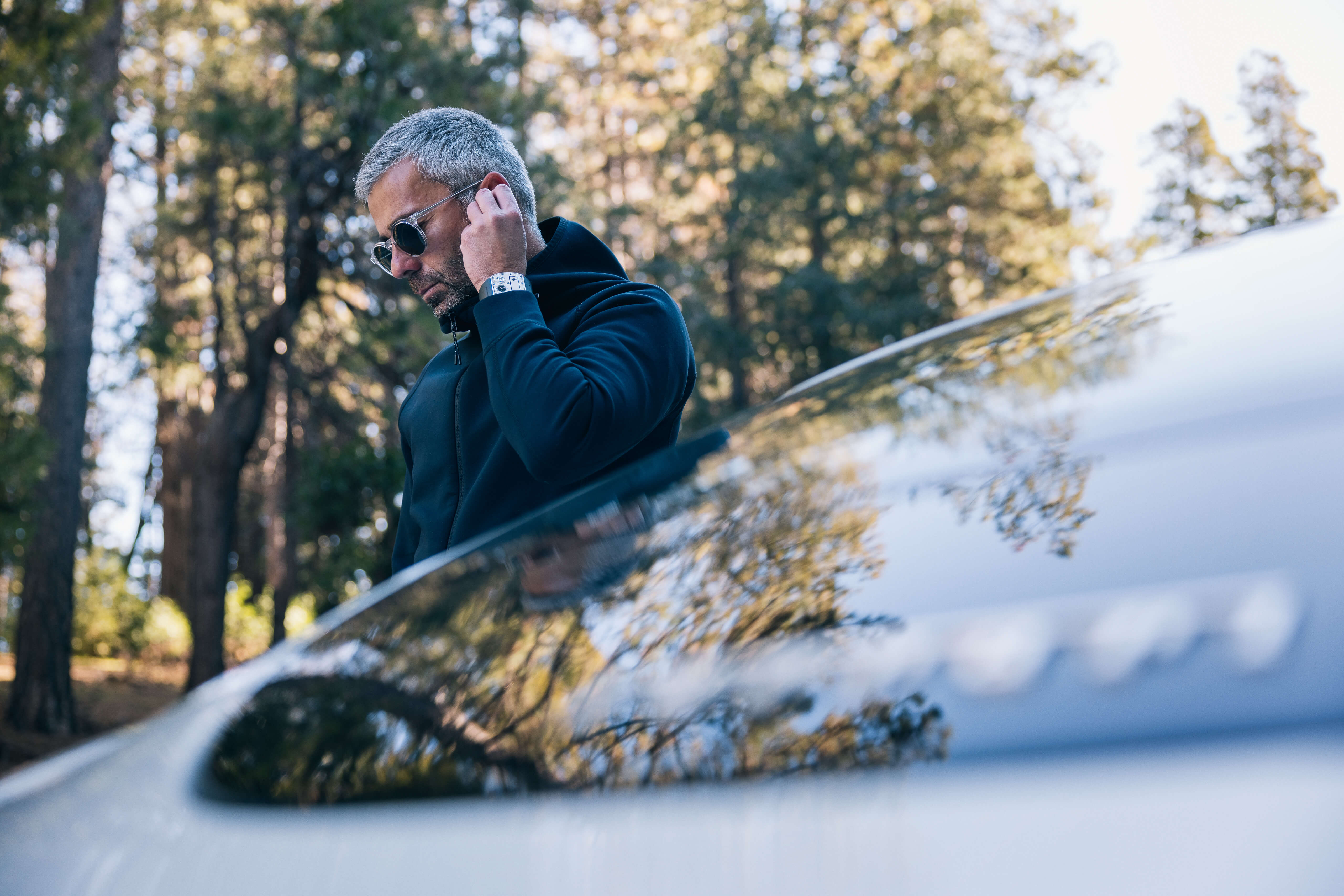 Motorsports demand strength and tenacity. Temperatures in the cockpit can rise as high as 50°C, steering becomes difficult as muscle tension builds, and even breathing is a challenge as pressure up to 6g's pushes a driver to their physical limit. After extensive training, a normal human body can withstand 9g's – but only for a few seconds. Enduring two-thirds of this force for hours necessitates in equal parts passion and relentless determination.
While rare daredevils choose to endure these harsh conditions in order to win a Formula 1 trophy, we all face life's twists and turns. Withstanding these highs and lows, from falling in love to heartbreak, asks as much emotionally as a race does physically.
As adrenaline raises your pulse and stress builds, having something constant at your side gives the confidence necessary to propel you forward into the unpredictable future. Just as a driver keeps faith that their car will get them across the finish line, the owner of a Richard Mille knows that – whatever happens – their watch will continue ticking.
An iconoclastic and idiosyncratic duo reveal a watch that unites high risk with high rewards.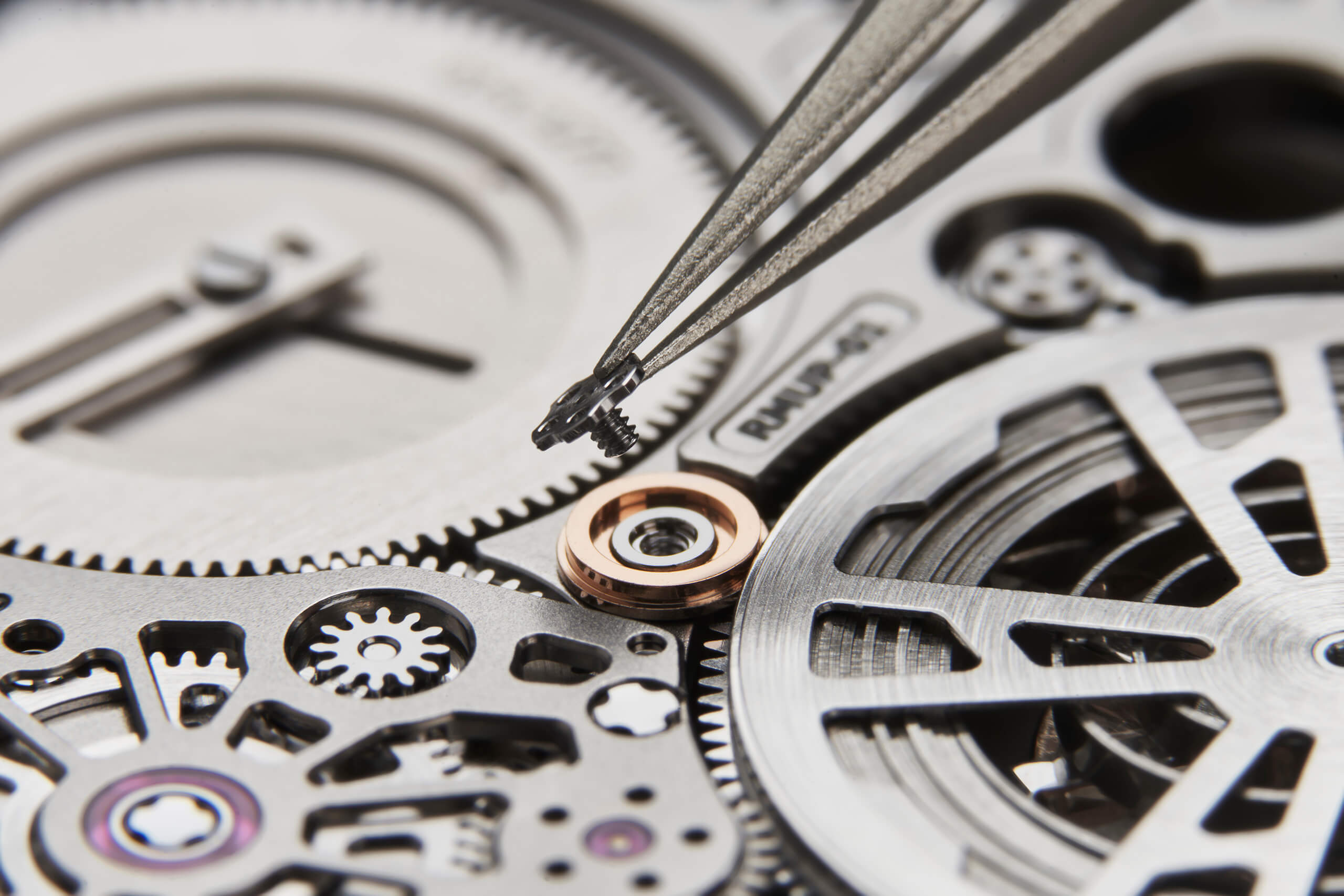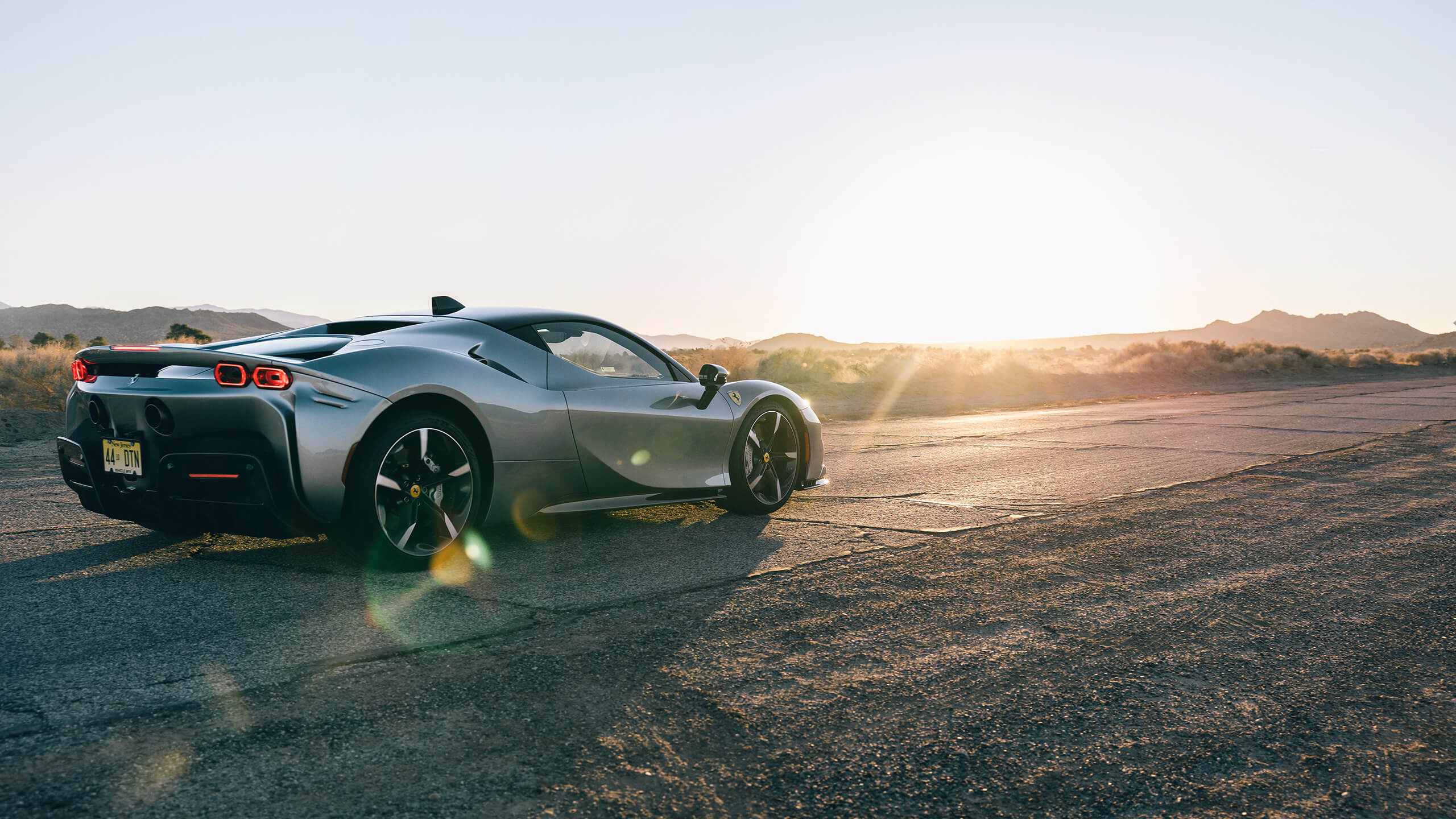 A race driver knows that success is never achieved alone. They depend on a pit crew of over 20 people, each with specific roles. From lifting the car and changing its tires to adjusting aerodynamics and navigating a safe return to the track, this team must work together seamlessly so that not even a fraction of a second is lost. Only by joining forces in harmony, with their unique strengths combined, can they claim victory.
In 2021, Richard Mille and Ferrari embraced the same collaborative attitude found on that storied track with the RM UP-01 Ferrari. It was a natural alliance: both share an obsession with excellence, precision, reliability, and innovation, regardless of the cost.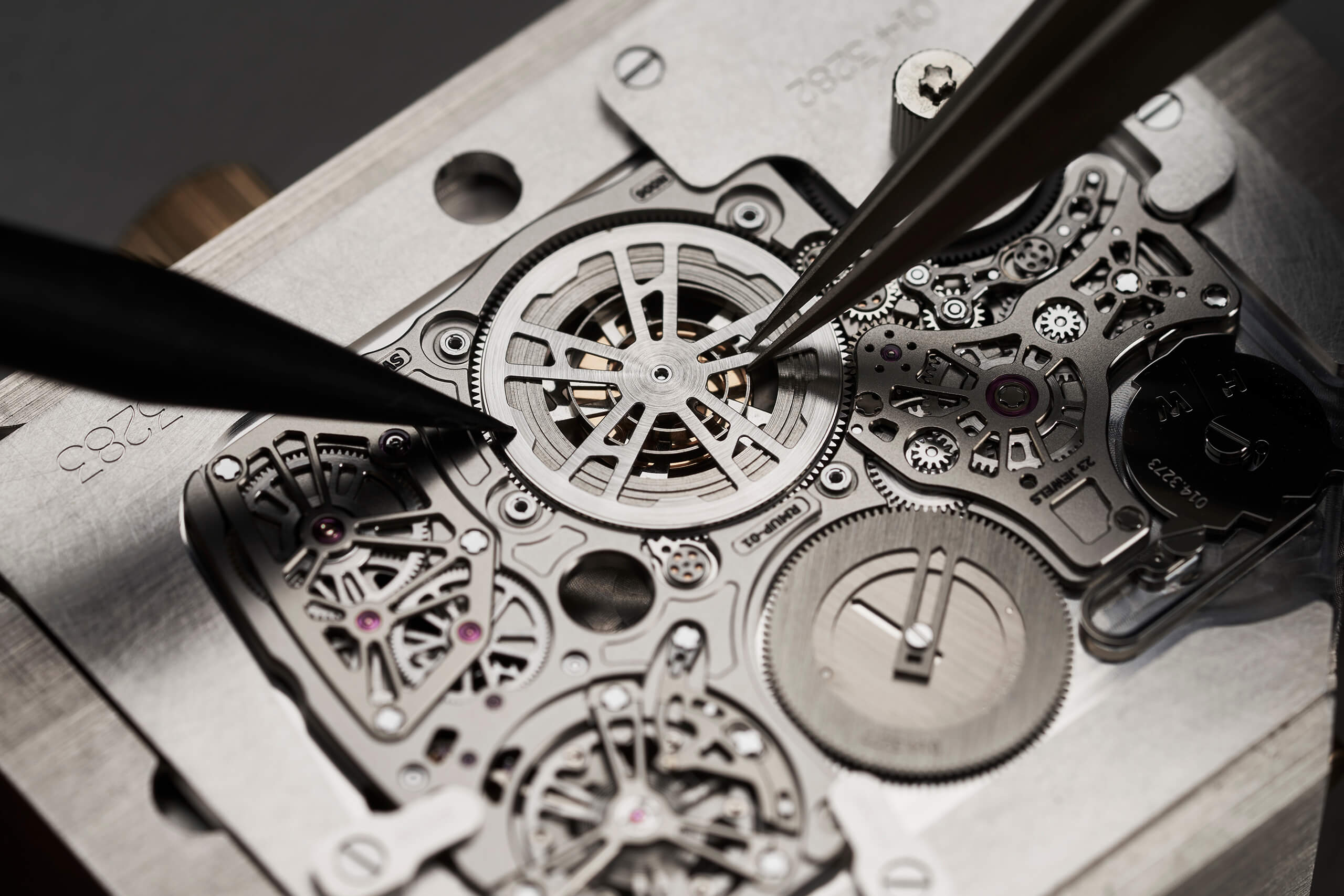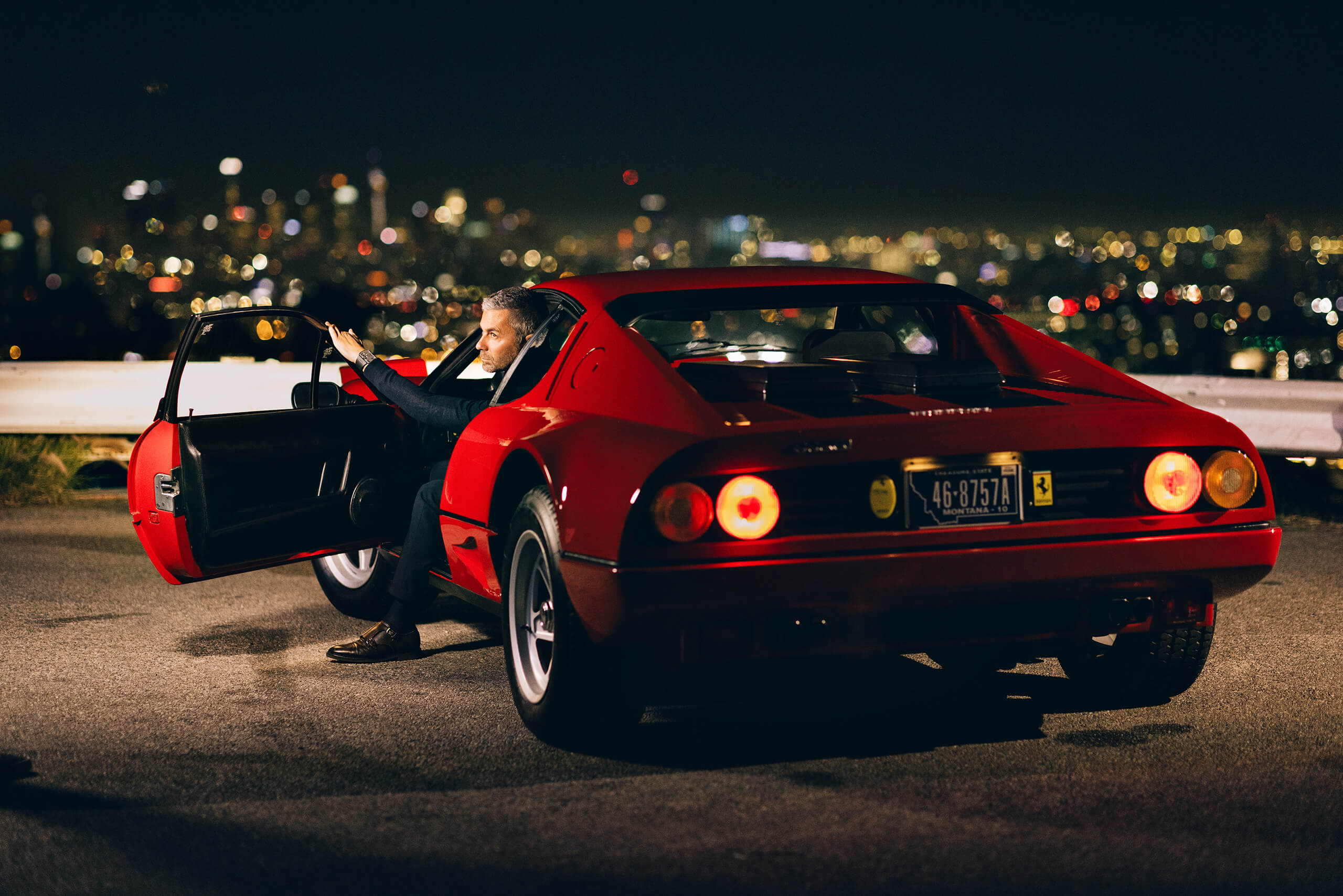 Neither has ever accepted the status quo. Ferrari produces every car at the factory in Maranello, Italy, that its founder, Enzo Ferrari, opened in 1947. Always released in limited editions, their cars were originally handmade, and, to this day, their engines are assembled by hand. Conductor Herbert von Karajan even described the V12 engine's sound as more harmonious than any orchestra.
With a similar iconoclastic spirit, Richard Mille started his company in 2001 with the intent to redefine how watches can be made. Each project begins by reinventing horology from scratch. Virtually no standard pieces exist across a portfolio featuring over 80 models.
The RM UP-01 Ferrari takes this revolutionary spirit to the extreme. The culmination of nearly 6,000 hours of development, this 1.75mm thick timepiece celebrates a shared devotion of perfection. With a movement assembled in the case, the RM UP-01 Ferrari nods to the 19th century, while its use of cutting-edge technology and materials look to the future.
The power of what we see depends on the strength of what remains invisible.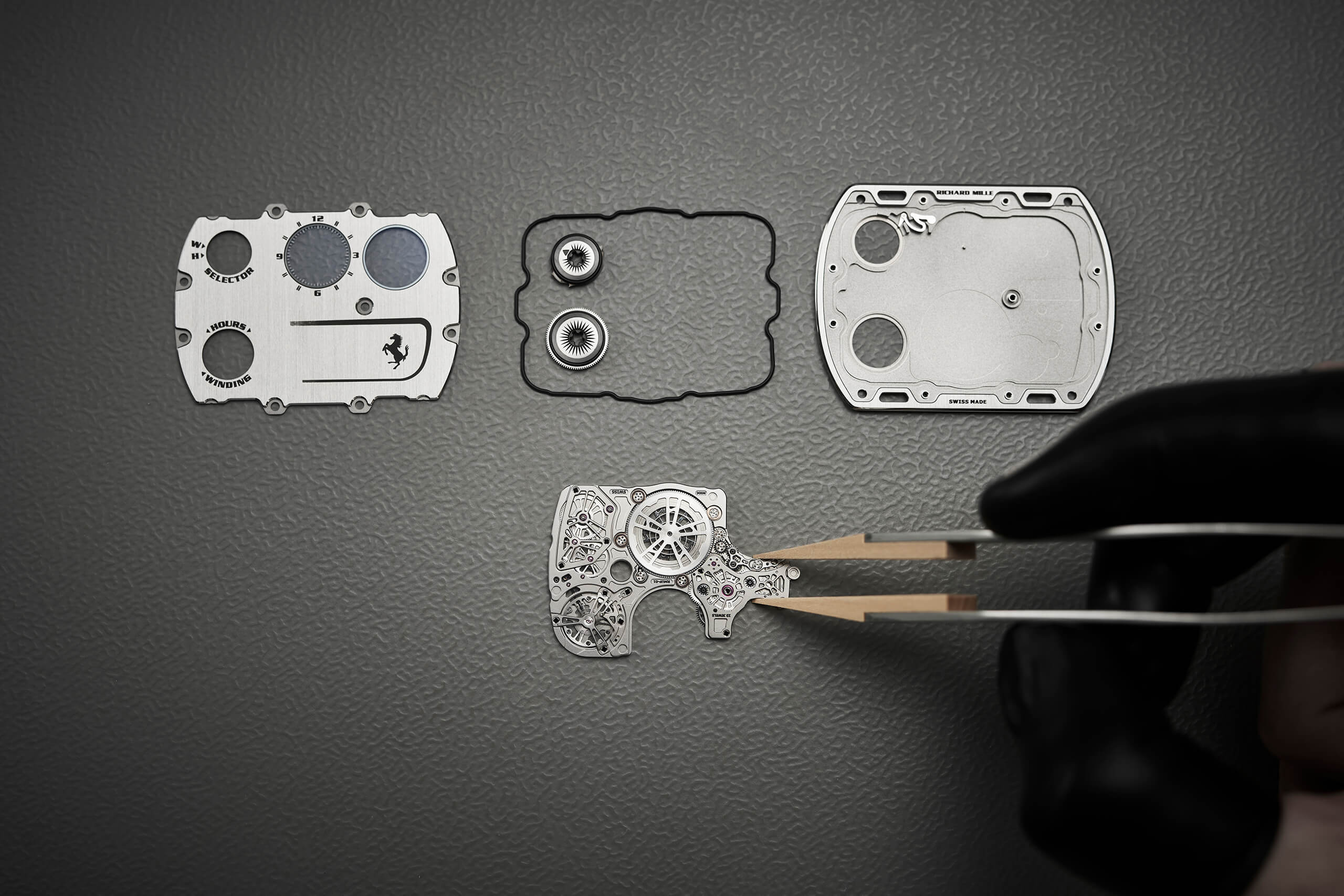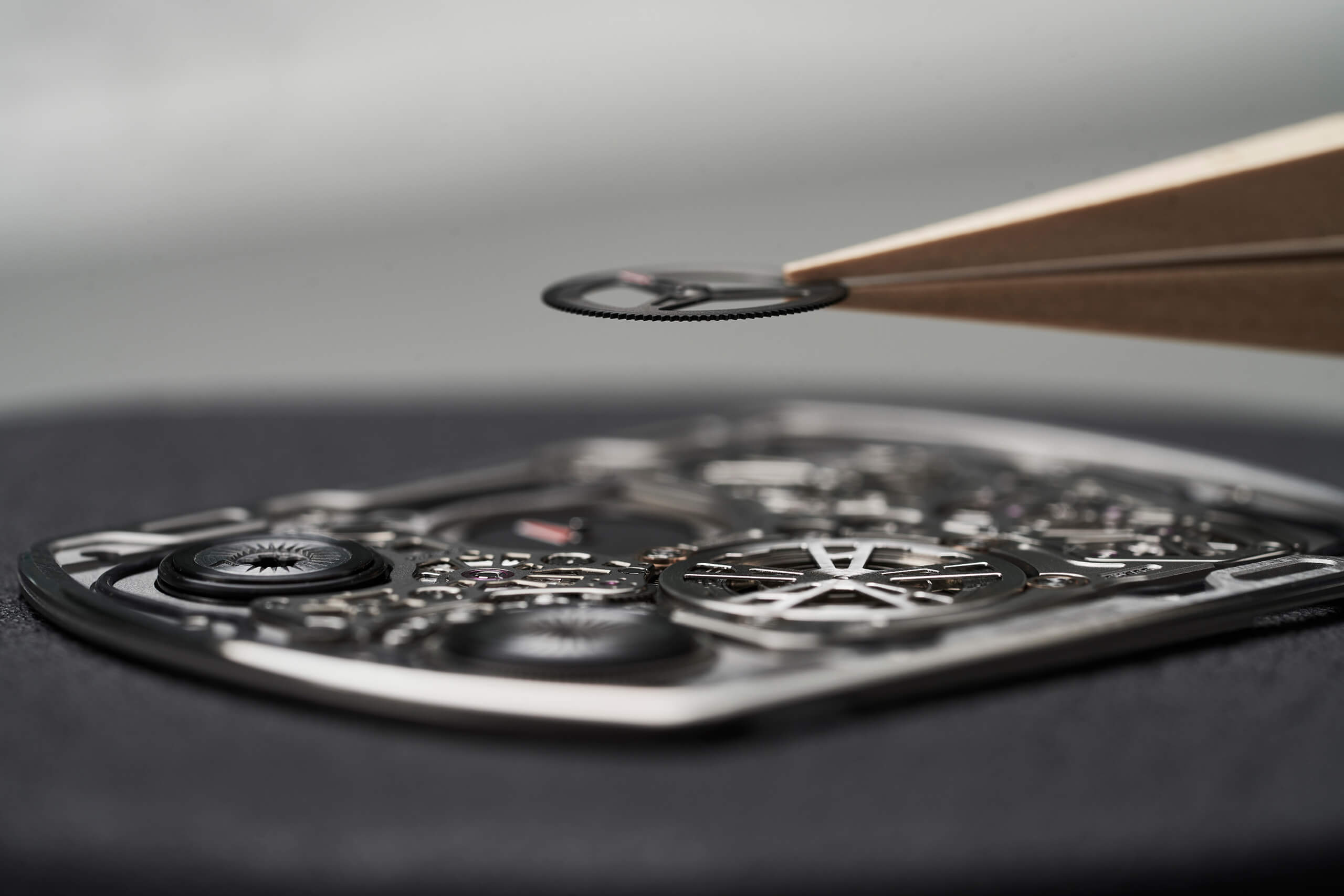 Both sports cars and watches dazzle the eye. Yet within their polished hoods and cases lie the complex mechanisms that make them run smoothly and which are as wondrous as their sleek exteriors.
A watch's anatomy can defy comprehension. Comprised of a seemingly infinite number of layers despite its small shell, the calibre dazzles with its assemblage of minuscule components working in tandem. Even if hidden from view, Richard Mille requires that all wheels, screws, bridges and springs be hand-finished, both to keep accurate time and to ensure quality at every level.
Technicity dictates aesthetics, too. This unprecedented goal necessitated rethinking every element, leading to a patented ultra-flat escapement and barrel as well as an extraordinarily fine hairspring. Presented in a design that evokes a Ferrari's speeding rims, two crowns – one for function selection, another to set the selected function – also help ensure slimness. The resulting style preserves the brand's signature tonneau shape while marking an exciting new chapter in the collection.
Explore The Watch
Balancier
Overview
Back
Front
CLICK
AND
HOLD
TO SEE INSIDE THE WATCH
The pursuit of ultimate flatness continues a legacy of pushing the boundaries of movement architecture.
Despite this innovation, strength was never compromised. Grade-5 titanium - commonly used in aeronautics for its corrosion resistance and ability to withstand temperatures over 400°C - is used for the baseplate, skeletonised bridges and a variable-inertia balance. The alloy's characteristic lightness also connotes the grace and agility synonymous with Ferrari.
A triumph of technical prowess, the RM UP-01 Ferrari can withstand 5000g's despite weighing only 30g. It exudes power, inside and out.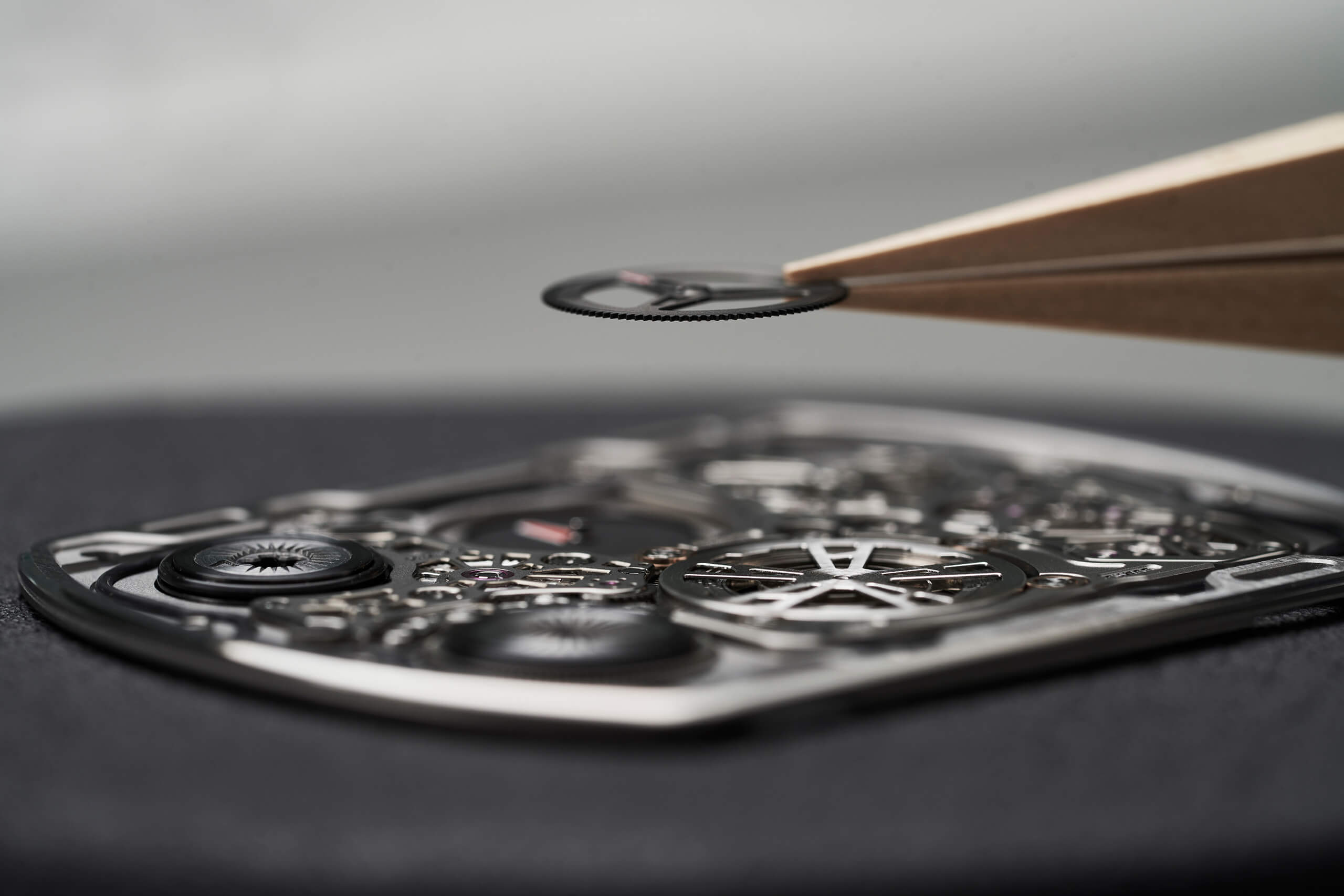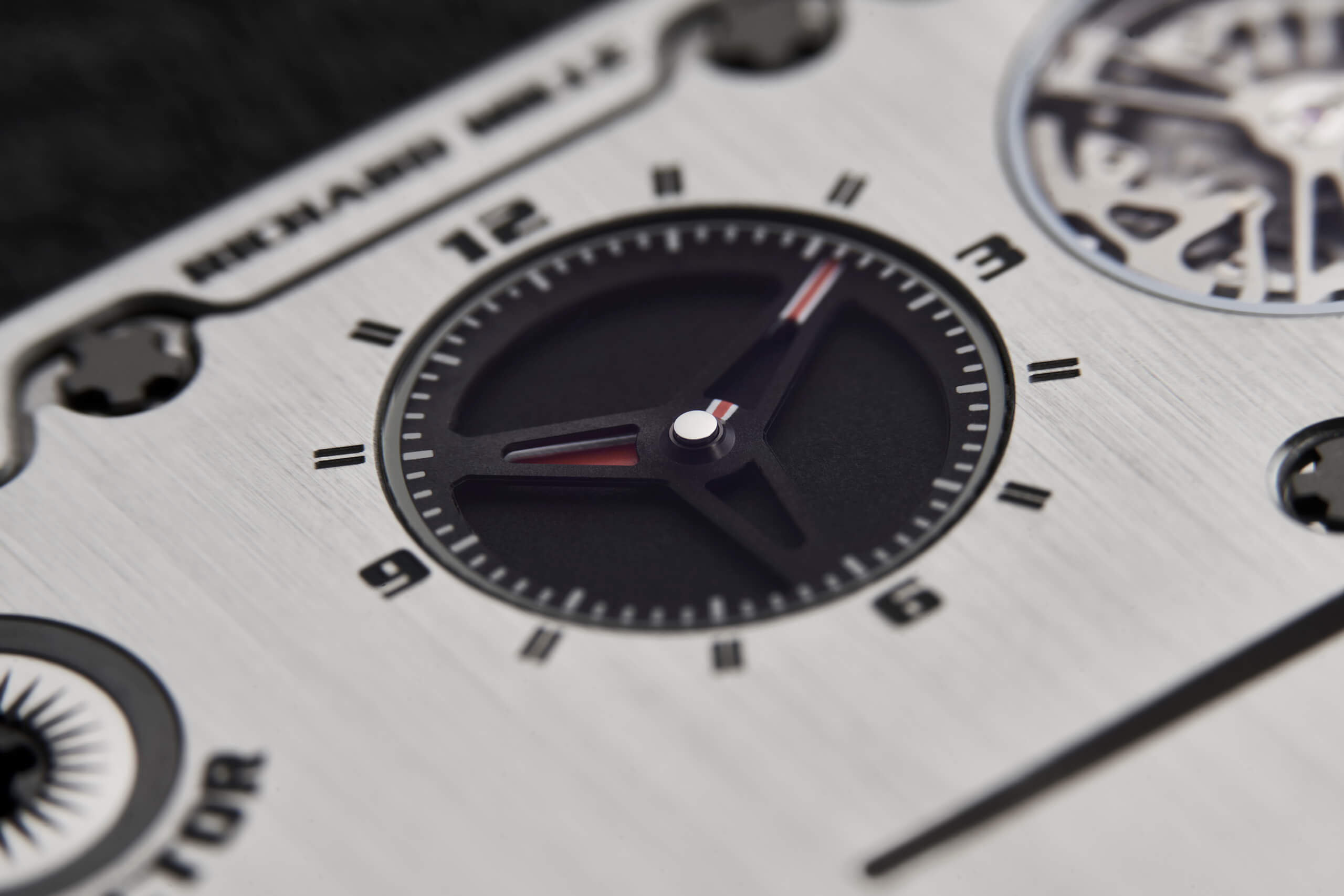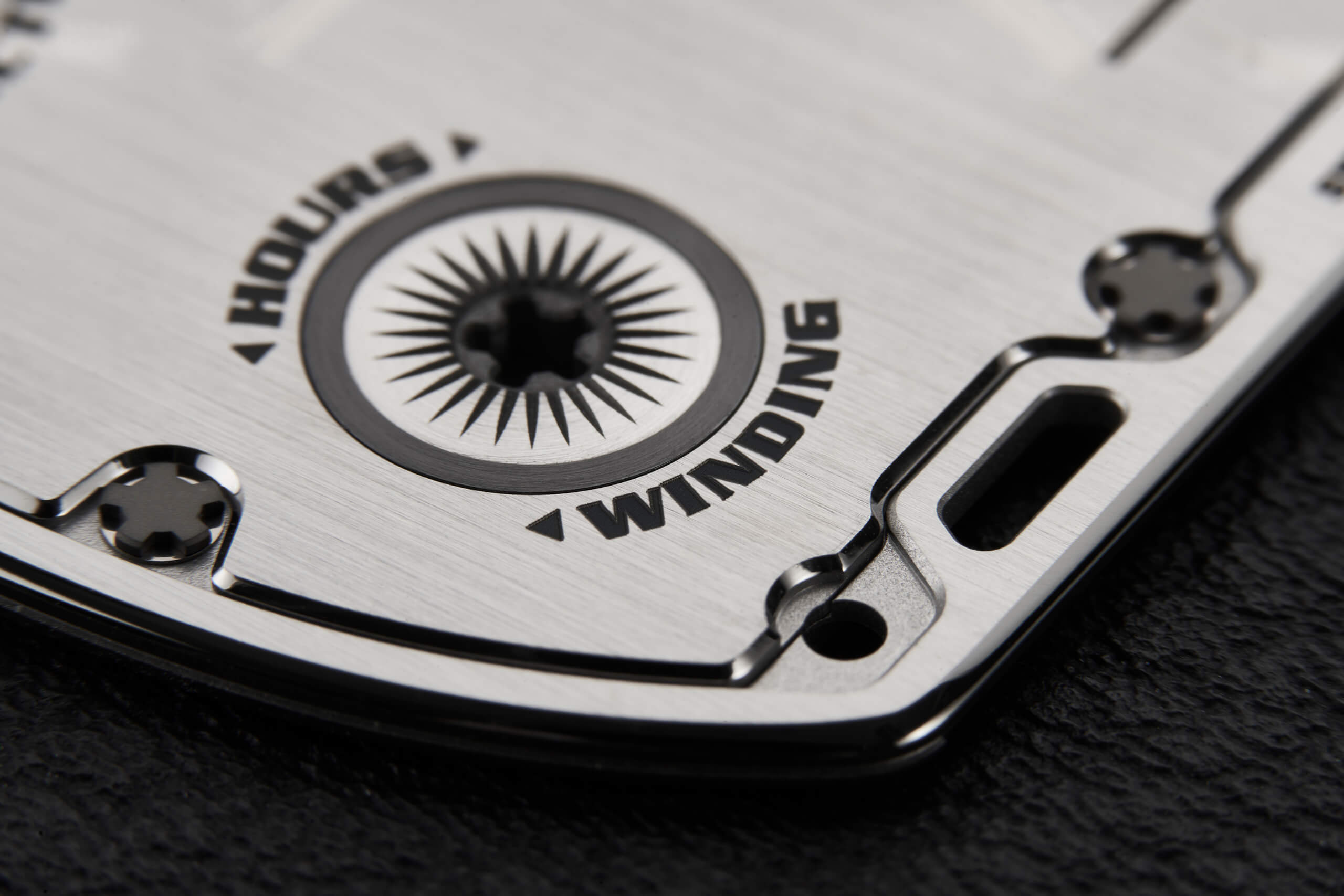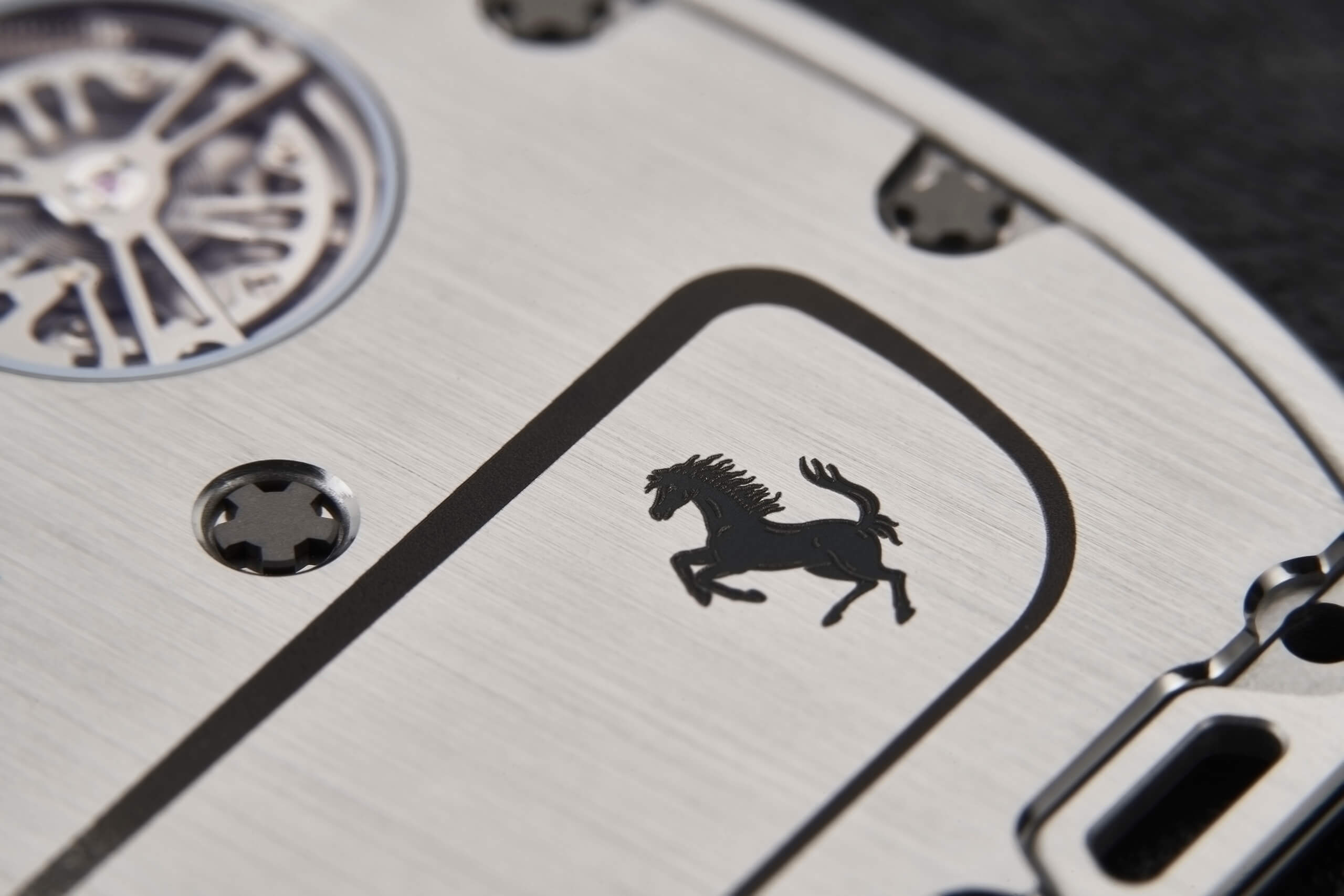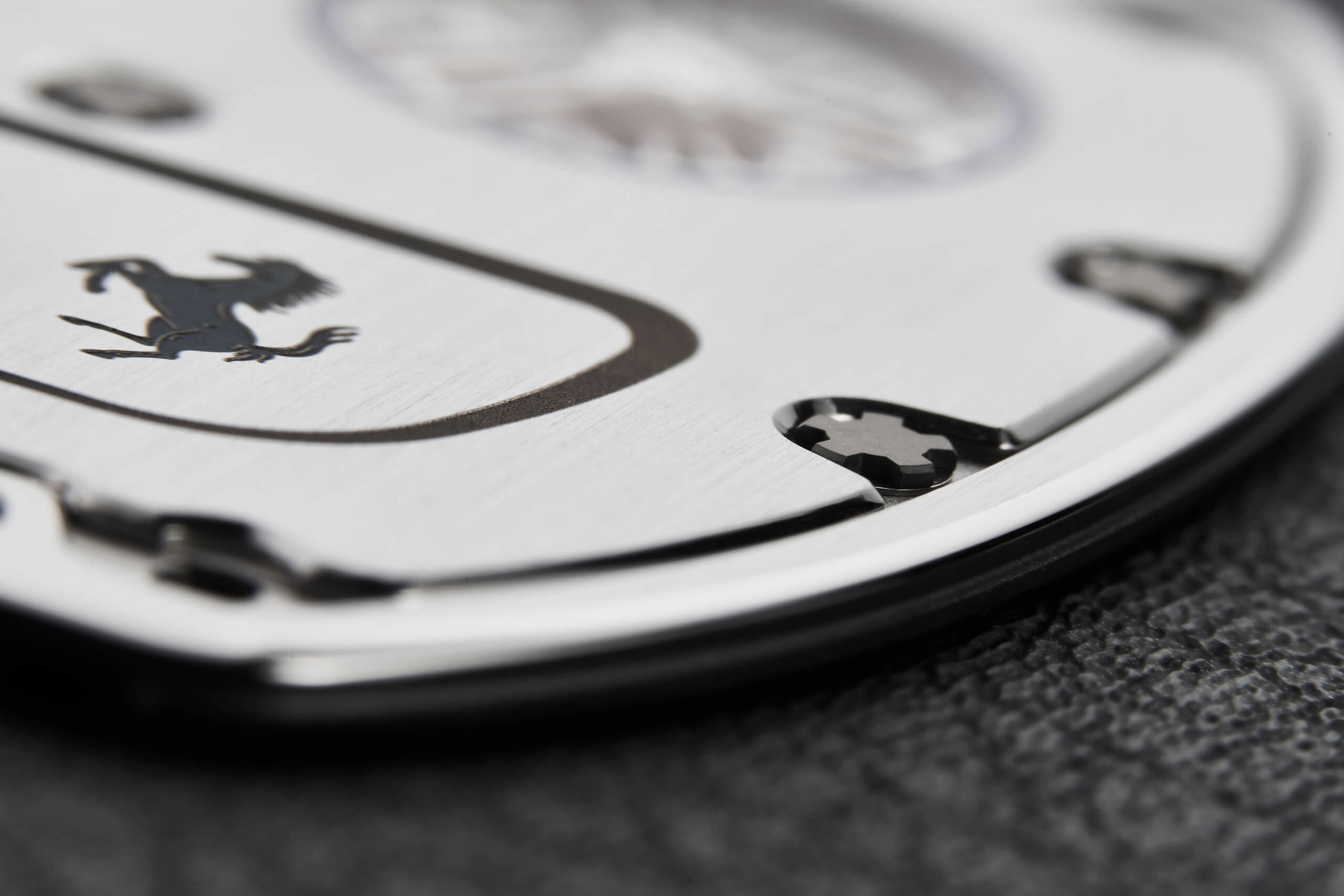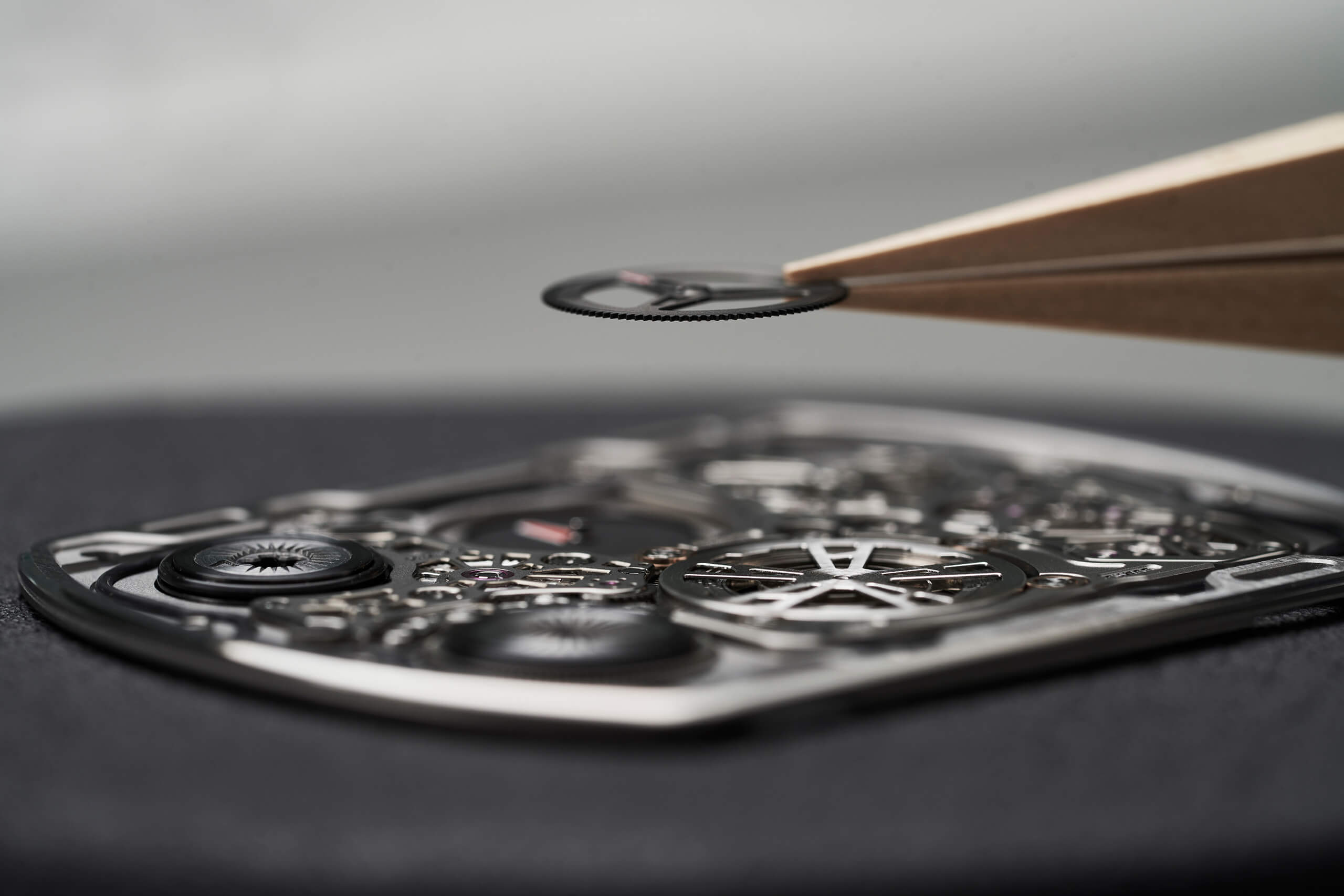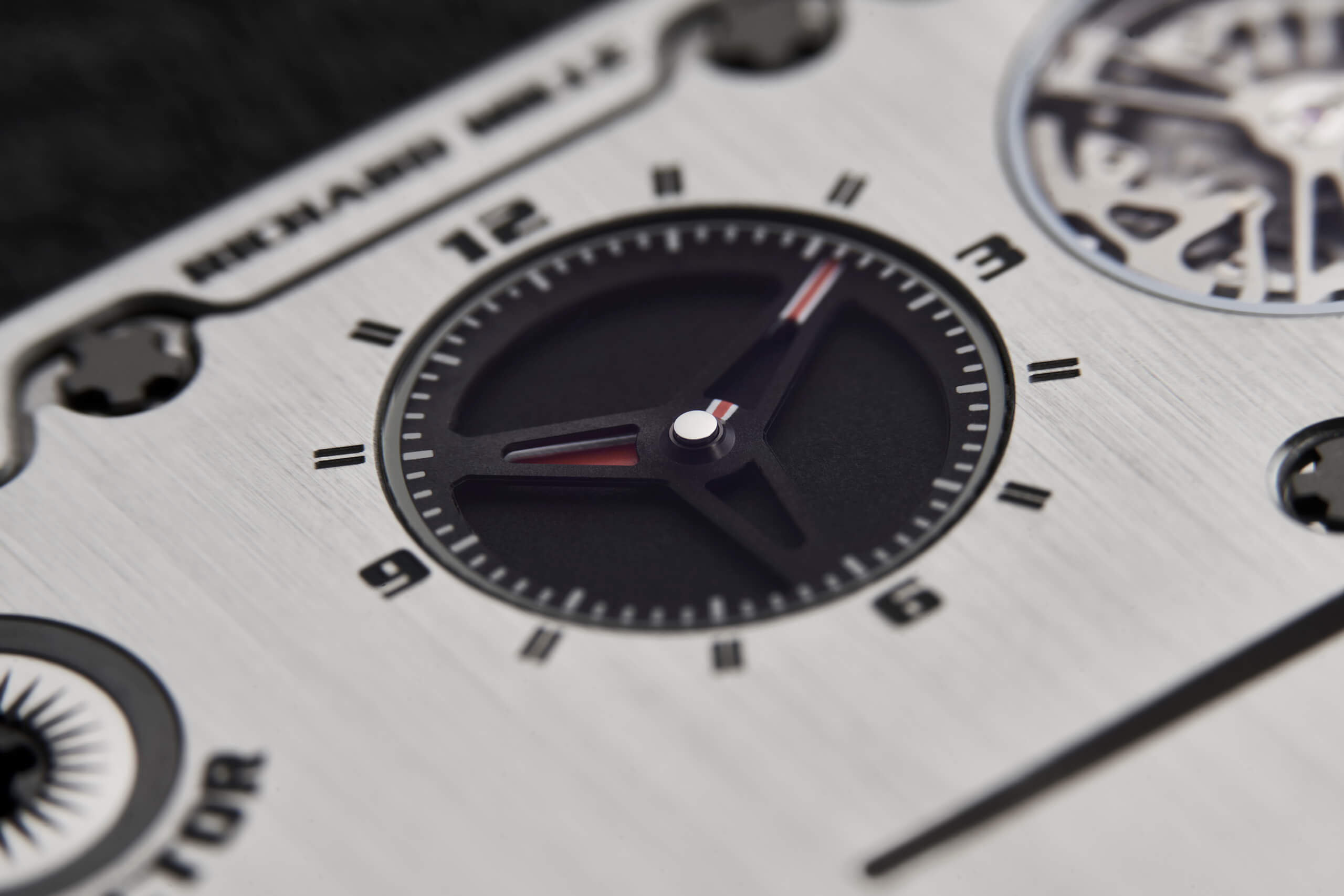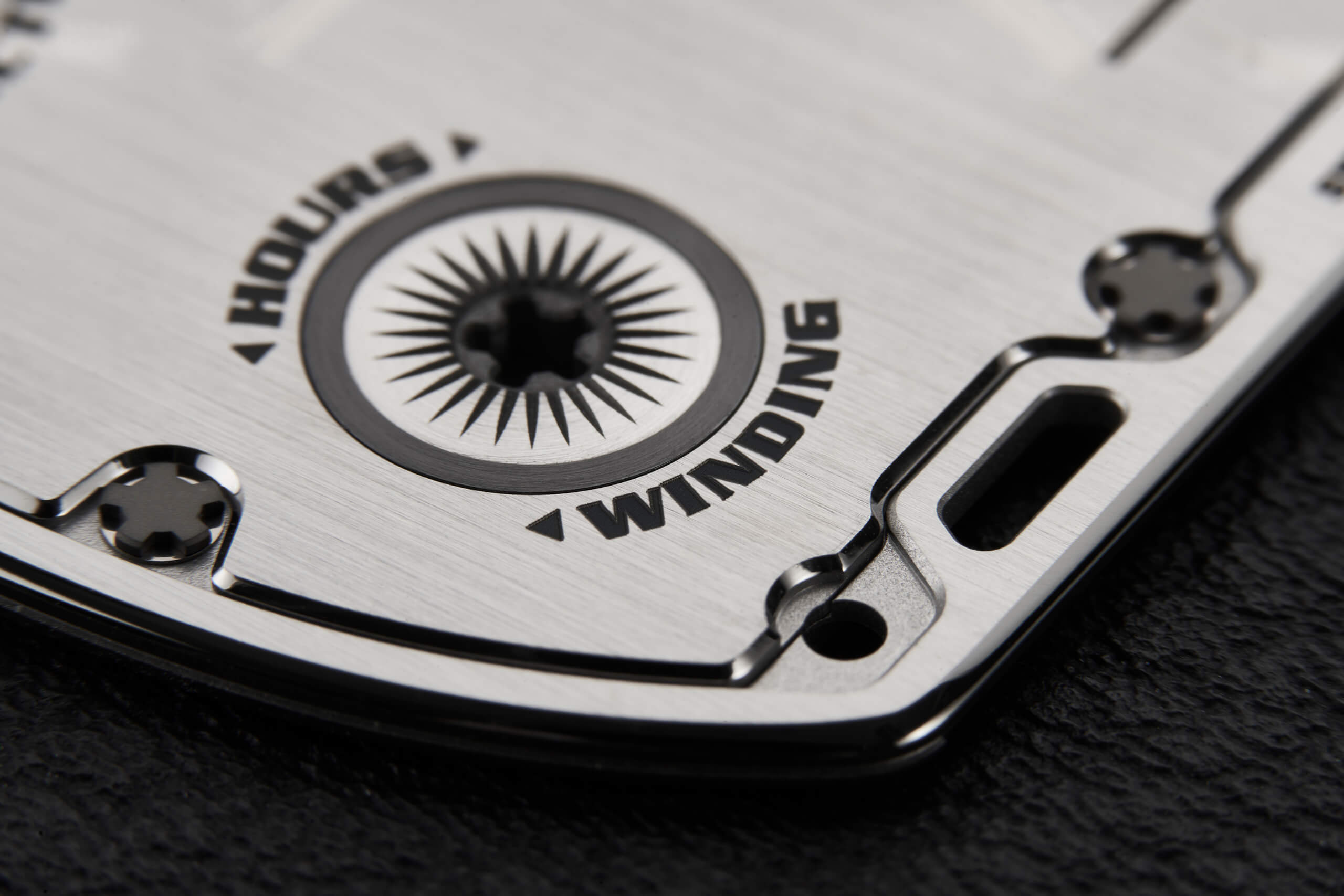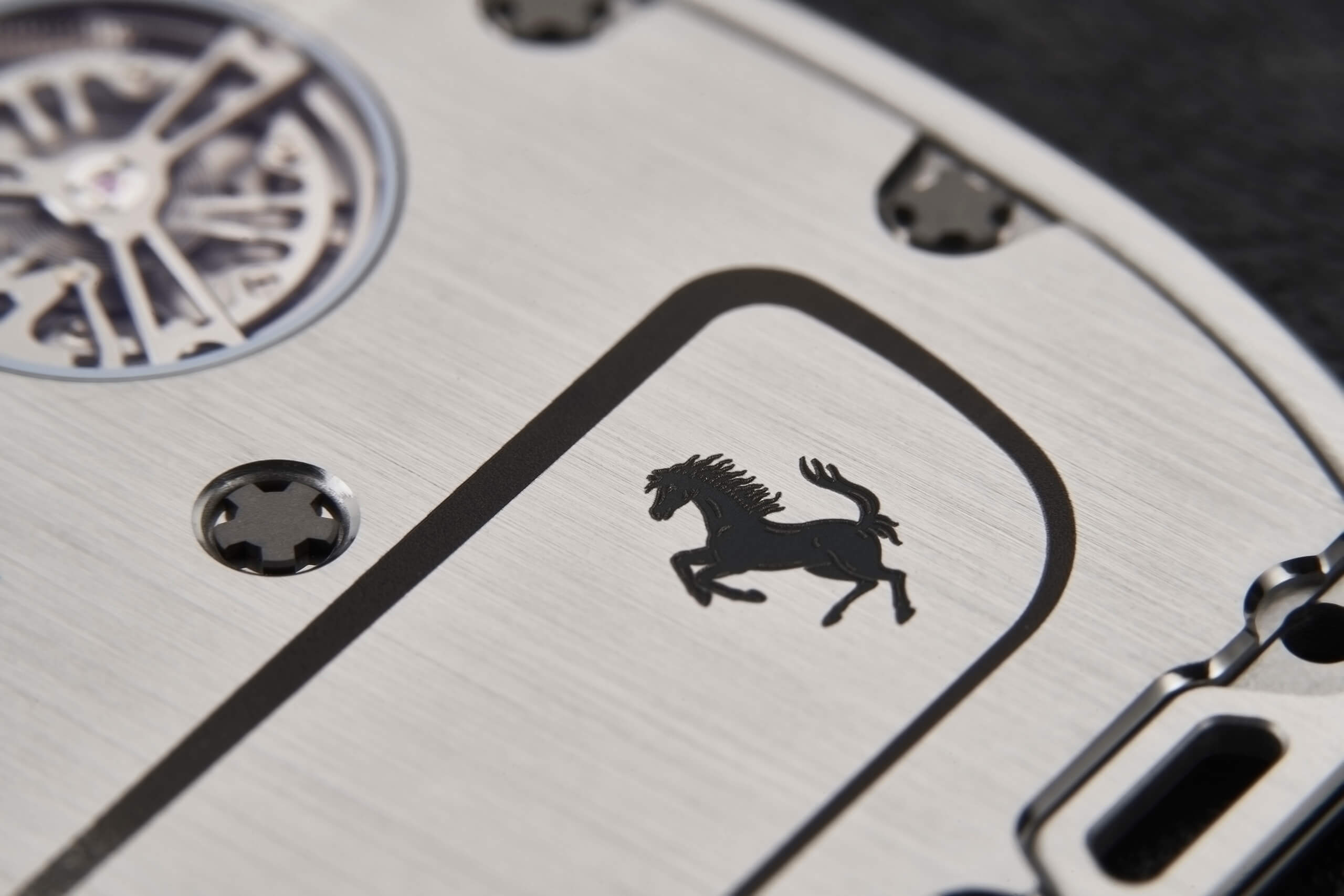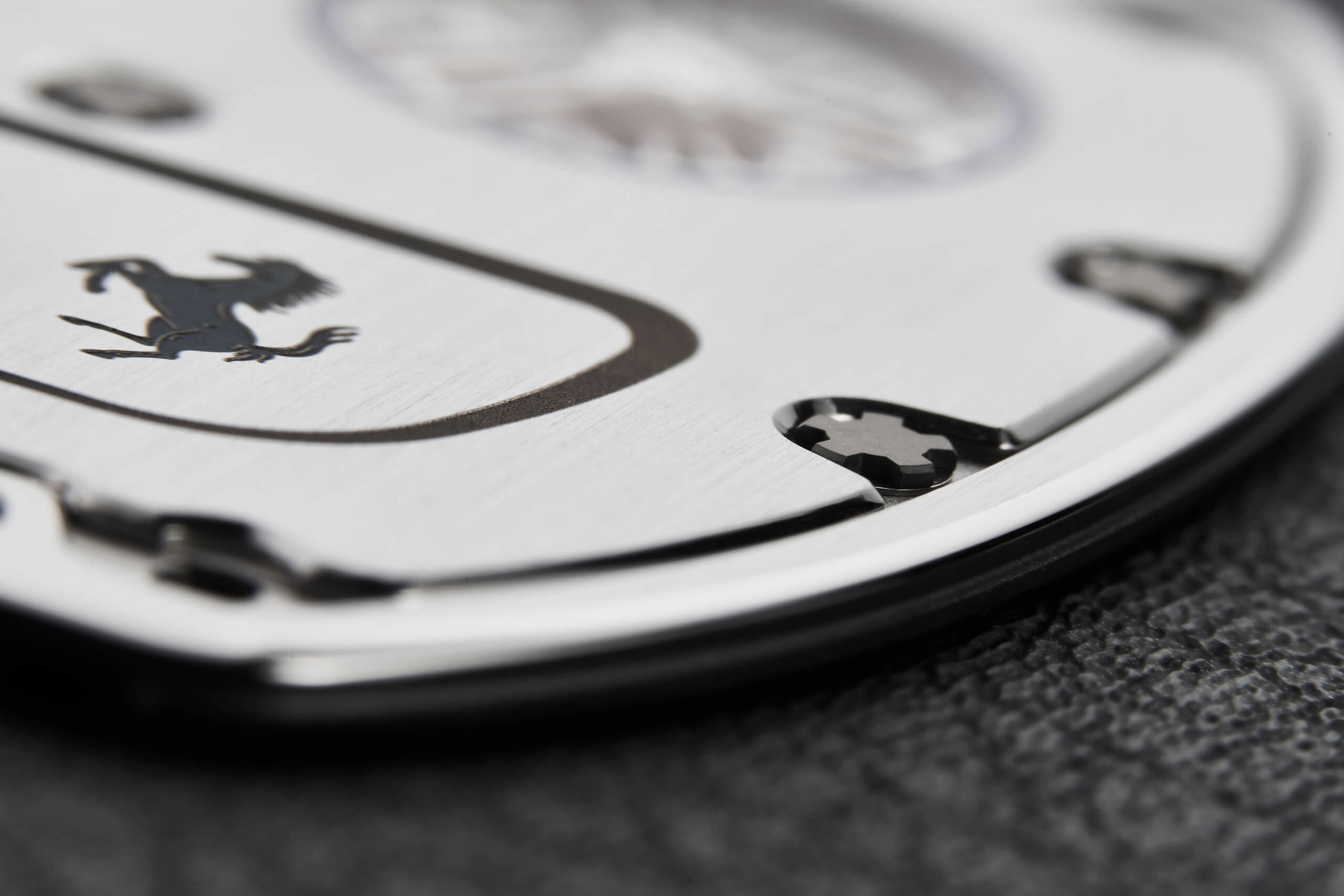 Motorsports are at the heart of an adventurous watchmaker's every creation.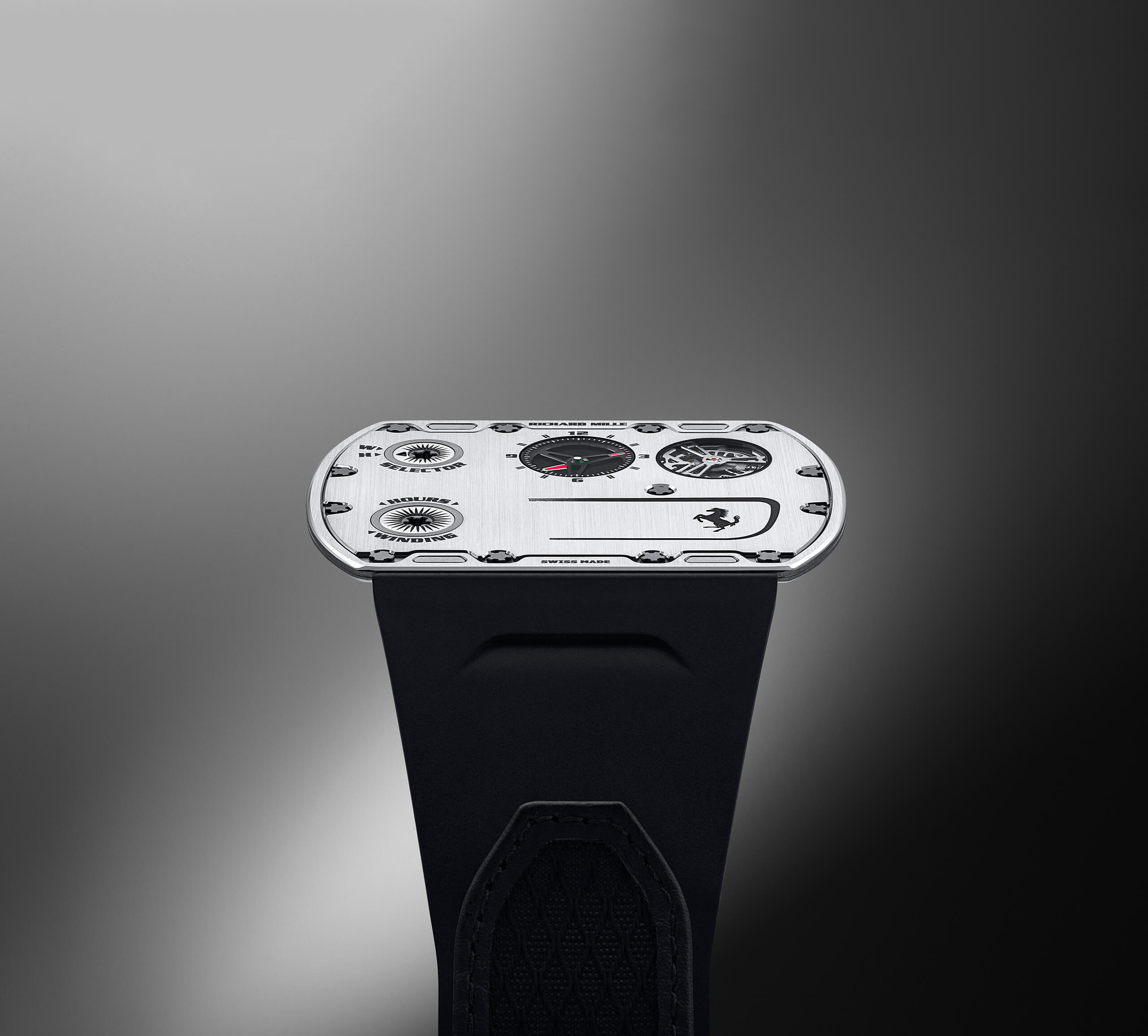 A racing car requires more than a fast engine. Surviving - let alone winning - the Formula 1 Grand Prix demands a car that prioritizes endurance, agility, and the structural integrity to withstand any conditions. The same is true for a Richard Mille watch.
A collector of model cars in his childhood, the eponymous founder has always been passionate about racing. When he started Richard Mille in 2001, it became a foundational inspiration in his quest for the perfect marriage of strength and lightness. Whether it was introducing graphene to horology – a nano-material six times lighter than steel and 200 times stronger – or adapting the basic tonneau form to achieve better ergonomics, the brand relentlessly pushes the boundaries of power and aesthetics.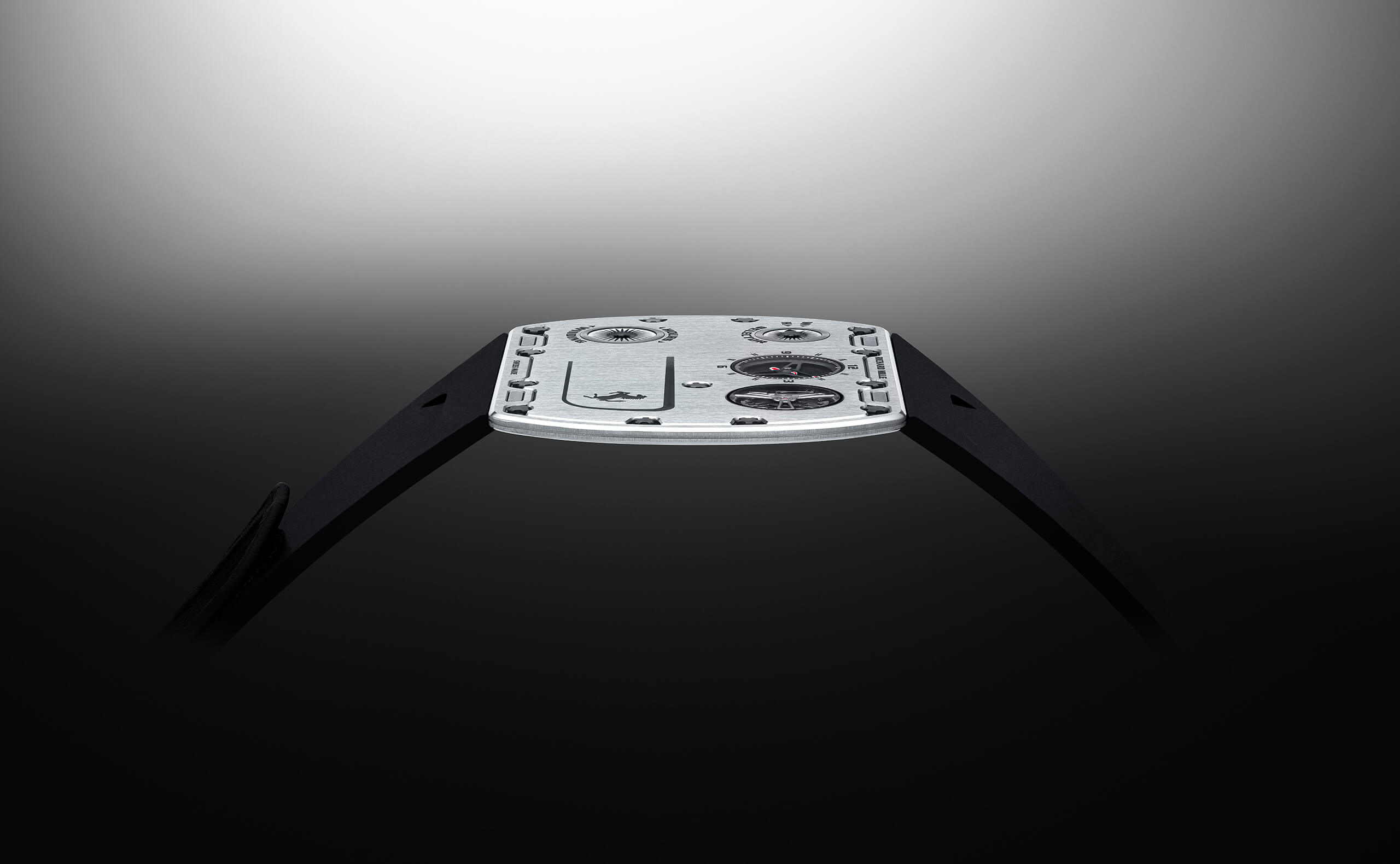 By joining forces with Ferrari, this obsession with precision and reliability was taken to new heights.
The traditional architecture creates boundary-pushing shock resistance, while swapping the index for a variable-inertia balance with six weights keeps the regulating organ finely tuned. The use of resistant materials, like titanium, further gives its owner confidence that, no matter how intense life may be, the RM UP-01 Ferrari will always be dependable.
Like Formula 1's ground-breaking advances in automotive engineering, Richard Mille rolls back the limits of possibility in watchmaking.